---

International Dating & Marriage Agency Romantica

7227 North 16th Street, Suite 240
Phoenix, AZ 85020
(602) 553-8178
fax (602) 468-1119
Contact Us

Poltava apartment for rent.
Poltava 1 Apartment
This apartment is available ONLY to Euro Club clients.
Please click here for information on the Euro Club.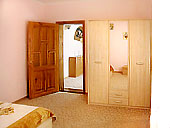 Remolded 2 room apartment in the city center on the main boulevard. Kitchen features include fridge, microwave, stove, electronic kettle. Living room & bedroom areas are carpeted with modern furnishing and TV ( with satellite English speaking programs). Bedroom has a double bed. Fully tiled bathroom with shower.
Apartments for Rent
Russian Apartments for Rent Colombian Apartments for Rent
Ukraine Apartments for Rent






[ List of Cities ] [ Info about Kiev ] [ Hotels in Kiev ] [ Location on Map ]


test