---

International Dating & Marriage Agency Romantica

7227 North 16th Street, Suite 240
Phoenix, AZ 85020
(602) 553-8178
fax (602) 468-1119
Contact Us

Almaz Urala ****
Address: Lenina st., 58, Perm

The hotel is situated in the center of Perm and it makes the whole hotel complex with the hotel "Ural"***. This complex is situated in administrative, cultural and historical center of the city that is why it is easy to reach us from the city's train station and the "SAVINO" airport. We can organize the meeting at the airport and transfer on your personal request. The visa support service is provided foe the foreign tourists.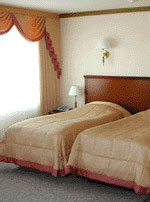 Rooms
Nowadays one can be offered 87 comfortable rooms at the hotel " Ural Almaz"("The Ural Diamond") The breakfast and the fitness center services are included in to the price.

There is everything needed for the rest of full value:
private bathroom;
refrigerator;
international and local telephone line;
Internet access;
television
The rooms of the following type - "Comfort de Lux", "Suite", " Presidential de Lux" , " Presidential de Lux plus" are equipped with the conditioners. Jacuzzi baths are at the rooms of the presidential type.

Bars and Cafe
The restaurant, bars and cafe-shops work daily at the hotel.

You will appreciate at its true value the Russian and European cuisine at the cafe "Maxim" , "Snack bar on the fourth floor" cafe, "Stroganov" restaurant ; also you can try delicious seafood and exotic fruit meals at the "Favorit" bar. At the lobby-bar you can also have not just a cup of coffee but a snack too.

Currently at the "Stroganov" Bar the business- lunches are offered at a special price; in the evening the music and dance programs are organized at the hotel. Up to your wish the room service.

The cozy banquet halls is a wonderful place to carry out the family celebrations in a close circle.

The hotel concert hall for 200 seats and art-club suit for different presentations, meetings and conferences organization. A coffee-break can be provided during the meetings.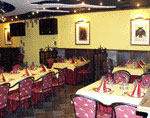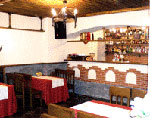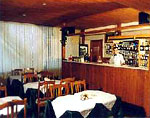 Service bureau
The Service Bureau provides you with the international and local telephone connection, telefax and mobile city connection, Internet access, scanner and xerox services. The conference hall for 14 places is equipped for business meetings and negotiations.
Health Center
The Health Center is the best place to rehabilitate the forces after the busy day. There are sauna, fitness hall, solarium, massage and beauty saloon, dentist office and barber shop at the hotel.
Tourism Department
The Tourism Department staff provide you with the history and culture of Prikamye Region and organize the tours around the city and the region.